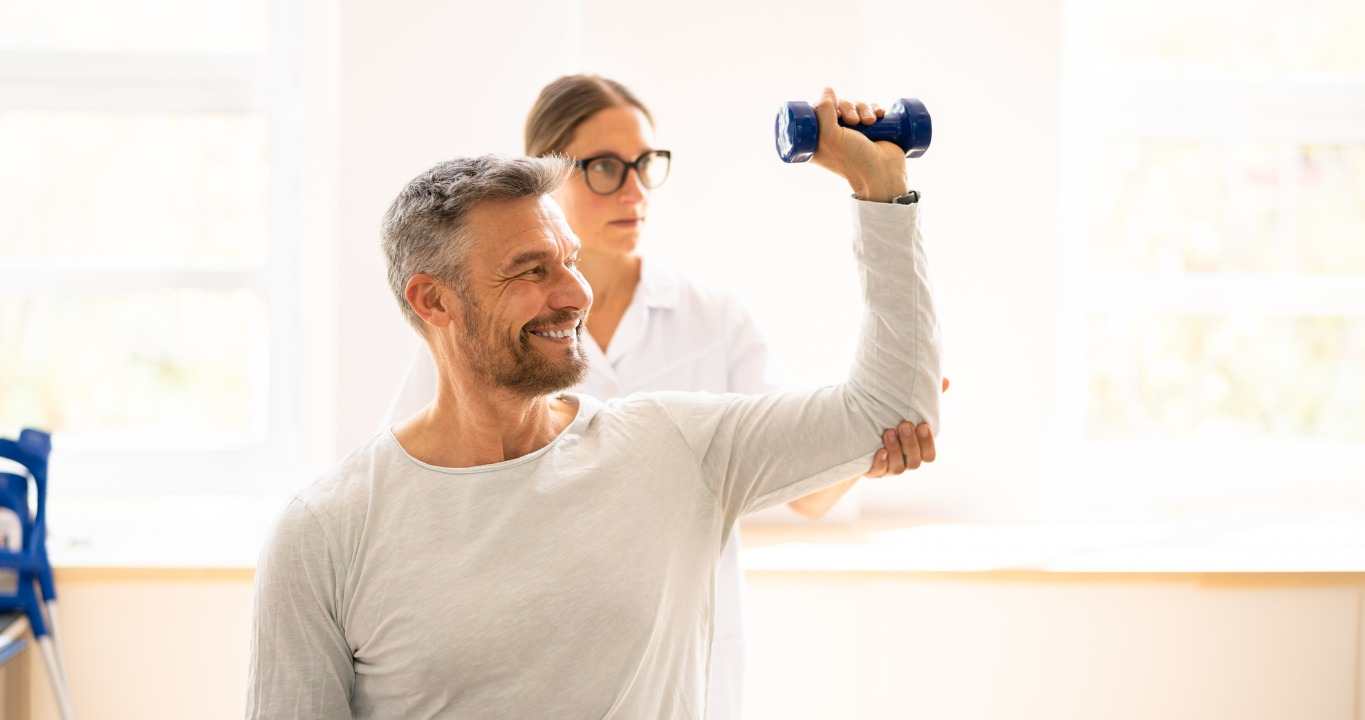 Considering Physical Therapy? Learn How it Helps!
Are you dealing with pain, recovering from an injury, or wanting to improve your overall fitness? Then you may want to consider trying physical therapy. Your family, friends, coaches,  or healthcare provider may have already recommended you see a physical therapist (PT). However, you might still be wondering what the benefits of physical therapy are and if it is right for you.
What is a Physical Therapist?
Before diving into the benefits of physical therapy, let's first answer the question: what is a physical therapist? A physical therapist is a healthcare professional who helps people improve their movement and manage their pain. Physical therapists are highly-educated and licensed professionals who can provide a variety of services, including:
Assessing a patient's condition

Developing a customized treatment plan

Providing manual therapy (hands-on care)

Instructing patients on exercises and other self-care activities to restore strength and mobility

Using modalities (such as the AlterG anti-gravity treadmill, laser therapy and normatech) to relieve pain
At Alliance Orthopedics, a physical therapist may work closely with you to set goals and create a treatment plan specific to your needs. Depending on your condition, the frequency and duration of your visits might vary. A physical therapist may also provide you with exercises or other activities to do at home.
What Conditions Do Physical Therapists Treat?
While not every condition requires physical therapy, there are many common conditions that PTs treat. Orthopedic injuries and musculoskeletal conditions are some of the most common reasons people seek out physical therapy. 
Conditions physical therapists commonly treat include:
Arthritis

Muscle strains and sprains

Muscular dystrophy

Knee ligament and cartilage injuries (such as ACL tears)

Elbow injuries (such as tennis elbow)

Tendinitis

Foot and Ankle injuries and conditions
If you are experiencing any of the above conditions, you may benefit from physical therapy. While PT may be extremely beneficial for treating these conditions, it is important to note that physical therapy is not a "cure-all." At Alliance Orthopedics, Physical therapy is often combined with other treatments to provide the best possible outcome.
Who Can Benefit from Physical Therapy?
The benefits of physical therapy are not just limited to people with injuries or chronic conditions. Physical therapy may also benefit people who want to improve their overall fitness or prevent injuries. Almost anyone can benefit from physical therapy in some way. Whether you are a seasoned athlete or someone who wants to get back into shape, a physical therapist may assist you in achieving your fitness goals.
Some of the benefits of physical therapy include:
Reduced pain

Improved mobility

Increased strength

Greater independence

Improved quality of life
Even if you do not have a specific condition that requires physical therapy, you may still benefit from PT. Using Physical Performance Testing, our teamt can help you identify areas of weakness and develop a plan to make improvements. They may also teach you how to properly perform exercises and create a fitness routine that is tailored to your individual needs.
What to Expect from a Physical Therapy Session
Each physical therapy appointment is different and will be based on your individual needs. However, there are some common elements that you may expect from most physical therapy appointments. For example, during your initial PT appointment, your physical therapist will likely conduct a physical examination to establish a baseline for your condition. They will also ask questions about your symptoms, medical history, and goals.
From there, your physical therapist will develop a customized treatment plan that is specific to your lifestyle and physical goals. This may include manual therapy, exercises, and education on self-care. As you follow your treatment plan and progress, your physical therapist will make adjustments as needed.
Visit a Physical Therapist at Alliance Orthopedics
At Alliance Orthopedics, we take a multidisciplinary approach to healthcare. By incorporating physical therapy into your overall treatment plan, we can help you achieve optimal health and wellness. 
We are able to provide our patients with comprehensive care through our state-of-the-art modalities such as:
Don't wait to start feeling your best, consider the benefits of physical therapy. Our team of experienced physical therapists and up-to-date modalities can maximize your recovery and help you reach your goals. Make an appointment today and get better faster with Alliance Orthopedics.