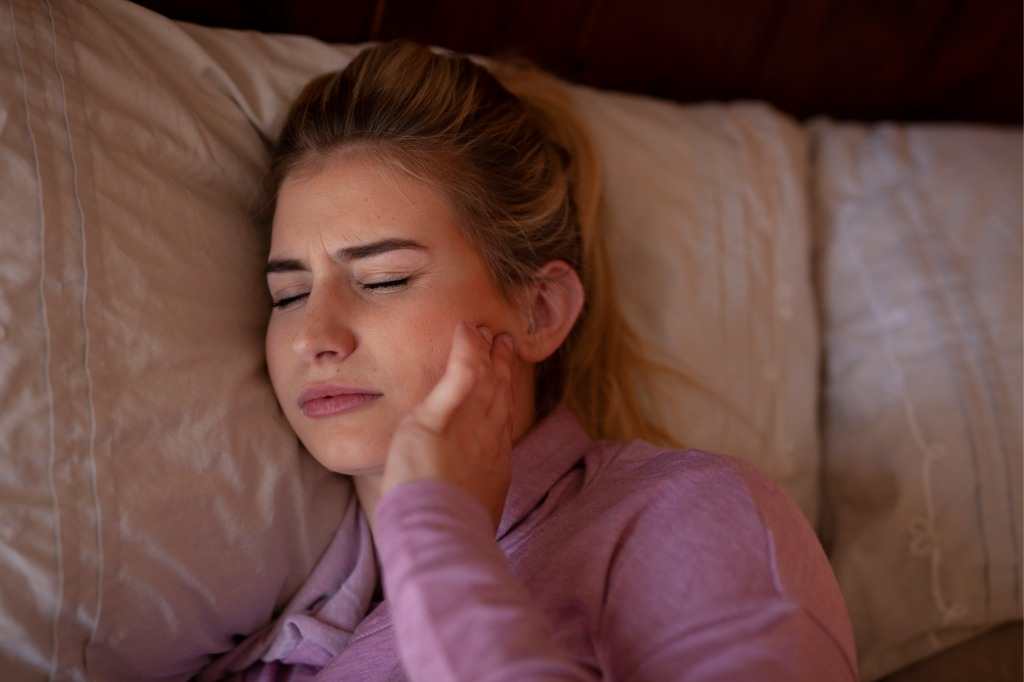 Physical Therapy to Treat Jaw Pain and TMJ Pain
The temporomandibular joint (TMJ) is a hinge joint connecting the lower jawbone, also known as the mandible, to the skull's temporal bone. It is responsible for the movements of the jaw, including opening and closing, as well as side-to-side, forward, and backward movements. You can feel the TMJ joints if you place your fingers in front of each ear and open your jaw. Unfortunately, this joint is highly susceptible to pain and dysfunction. Estimates suggest over 10 million Americans suffer from TMJ pain.
TMJ pain is more common in women than men and may be caused by several factors, including an injury or trauma to the jaw, arthritis, jaw misalignment, bruxism, and poor posture. Symptoms of TMJ dysfunction may include pain or tenderness in the jaw, difficulty opening or closing the mouth,  headaches, earaches, and aching facial pain. Fortunately, physical therapy is an effective conservative method to help treat symptoms of TMJ dysfunction.
Ways Physical Therapy Can Help Treat TMJ Pain
If you are experiencing TMJ pain, physical therapy may be a beneficial treatment option to reduce pain and restore mobility. Physical therapists work to assess the degree of your pain and develop a personalized treatment plan that might include one or more of the following modalities. At Alliance Orthopedics, we are devoted to utilizing top-of-the-line treatments to shorten recovery time frames, enabling our patients to resume their active lifestyles quickly.
Laser Therapy
Laser Therapy is a non-invasive treatment physical therapists use to provide deep heat to tissues and enhance cellular mobility. In addition, it promotes healing by increasing blood flow and decreasing muscle tension and inflammation in the jaw muscles. Low-level laser therapy is applied through a small handheld device in a criss-cross motion over the TMJ area. A healthcare provider or physical therapist should be consulted before starting this therapy.
Massage Therapy
Physical therapists may use a range of massage techniques to address jaw pain, which can involve massaging the muscles around the jaw, face, neck, and shoulders. Massage therapy aims to promote muscle relaxation, increase blood flow, and restore normal mobility to the temporomandibular joint. The TMJ is one of the most used joints in the body, opening and closing between 1,500 to 2,000 times daily. This causes the TMJ to be susceptible to muscle tightness and tension.
By applying pressure to specific areas of the body, a physical therapist can help alleviate muscle tension, reduce inflammation, and improve overall jaw function. These techniques can be particularly effective when used in conjunction with other interventions, such as jaw exercises and lifestyle modifications. 
Postural Instruction
Oftentimes, how we use our body can contribute to TMJ pain and discomfort. For example, poor posture increases tension in the jaw, neck, and shoulder muscles, placing excessive stress on the TMJ. Physical therapists can provide instruction on proper posture and body mechanics to reduce strain on the jaw and help relieve pain symptoms.
Dry Needling
Dry needling, similar to acupuncture, involves the insertion of fine needles into various muscles to promote the body's natural healing processes. However, dry-needling is a medical intervention performed by a certified physical therapist to stimulate blood flow, reduce pain, and decrease inflammation. It can be a beneficial intervention to treat the symptoms associated with TMJ. 
Jaw Exercises
Jaw exercises, developed by a physical therapist, can help reduce TMJ pain by restoring muscle function and improving your range of motion. Exercises may include tongue placement, pressure application, resistance training, and isometric exercises. Regularly performing these exercises can strengthen jaw muscles, increase blood flow, and reduce inflammation. 
Lifestyle modifications, such as stress reduction techniques and dietary changes, may also complement your exercise program. A comprehensive treatment plan developed with a physical therapist can target all aspects of your TMJ pain, helping you achieve long-lasting relief and improved quality of life.
Treat Jaw and TMJ Pain With Alliance Orthopedics
Are you tired of living with the discomfort and limitations of jaw and TMJ pain? Alliance Orthopedics can help you take the first step toward a pain-free future. Our team will work with you to develop a tailored treatment plan that addresses your unique needs and goals, helping you to restore pain-free jaw function. Experience the difference personalized physical therapy can make. Contact us today to book your appointment with Alliance Orthopedics.