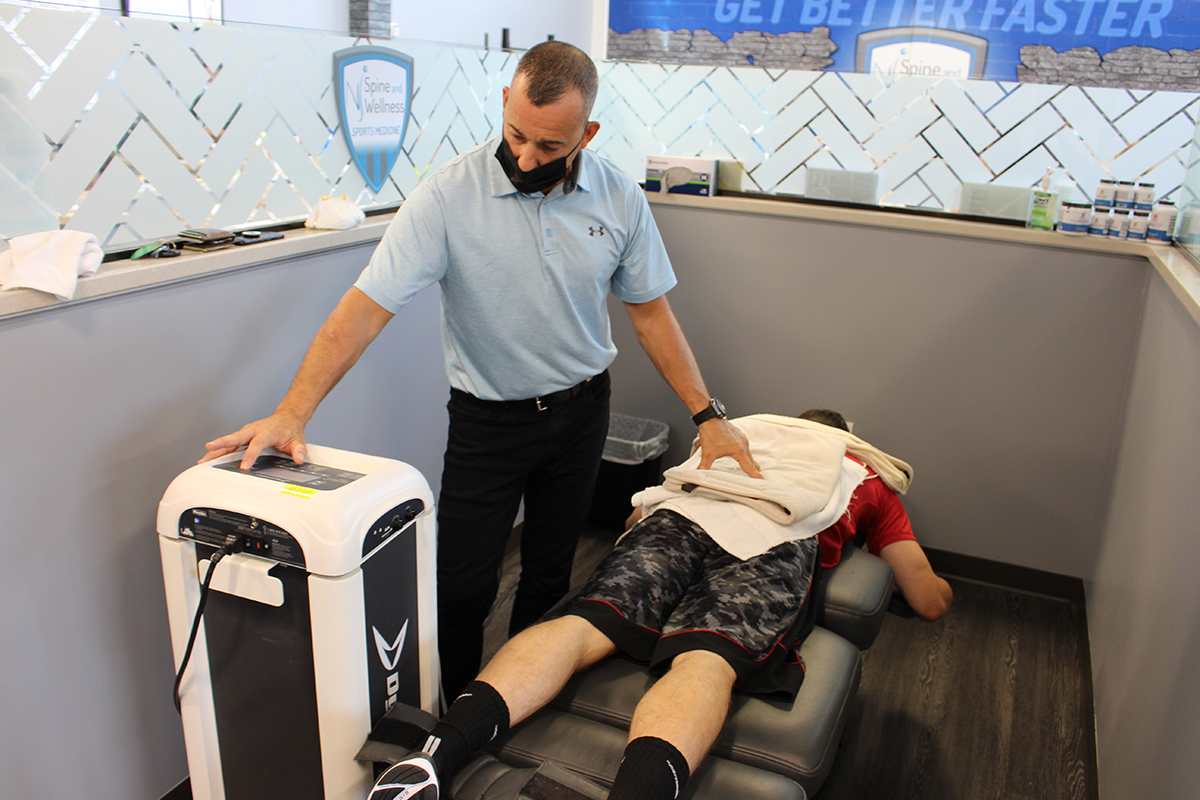 How Our Modalities Can Help You
No two patients have the exact same issue, so we build a comprehensive treatment plan just for you.
Here at Alliance Orthopedics, we have a variety of ways that can Get Better, so you can return to your job, back home, or wherever you've got to go next. We understand that each patient requires their own treatment plan specialized for what they need to recover effectively. You'll be joined a quality healthcare team experienced in using a wide variety of innovative technology, so we can help you recover and Get Better Faster. We have modality treatment plans that provide patients pain management and relief, especially when they're working through critical discomfort and need medical treatment quickly.
E-Stim
E-Stim is a pain relieving technique that consists of running an electrical current through pads that help calm your nerves without pain. A TENS machine consists of a battery-powered device that delivers electrical impulses via electrodes placed on the surface of the skin. Typically lasting around 10 minutes, it can be used in lieu of painkillers to help ease a patient back into normalcy.
AlterG
The AlterG is an anti-gravity treadmill meant for acute injuries or postoperative recovery. With the ability to lower someone up to 20% of their body weight, the machine helps patients return to full weight-bearing activities. It can also function as a normal treadmill, with increasing and decreasing speeds, but it can also go backwards or allow for lateral walking. The use of the AlterG provides a transformative experience for physical therapy, treating a range of issues from fractures and muscular strains, ACL reconstructions, Achilles tendinopathy,
LiteCure Class IV Laser Therapy
We also have treatments that utilize a non-invasive light therapy to provide a non-invasive light modality. This modality provides deep heat to repair the body, reducing inflammation and allowing tissues to heal. Litecure Class IV Laser Therapy, which alleviates pain and accelerates recovery, is administered alongside physical therapy and techniques such as Graston.
Our Comprehensive Treatment Plans
The variety of treatment plans that we offer all fit under one comprehensive treatment plan built to understand and tackle exactly what you need. Our priority while a patient maximizes their path to recovery is providing a team of specialists a patient rely on. There are so many factors while looking for an effective healthcare team. Our doctors are highly experienced, so their use of the modality treatments are safely supervised and alongside skilled treatment. Our physicians and specialists are fully equipped to provide answers and expertise in their treatment plans, with experience and communication skills to provide you with a dependable approach to your care.
We have the staff and the technology to help you overcome body pain, regardless of what your issues may be. Our offices are open to you if you have any further questions about our modalities and how they can help in what you need. For more information on us, feel free to contact any of our four main offices on our homepage! We look forward to helping you get better faster!
---
Sources
U.S. Department of Health & Human Services. (n.d.). Choosing a Doctor: Quick Tips. health.gov. Retrieved October 6, 2021, from https://health.gov/myhealthfinder/topics/doctor-visits/regular-checkups/choosing-doctor-quick-tips.