Epidural Steroid Injections at Alliance Orthopedics
An epidural steroid injection can provide patients with pain relief by injecting an anesthetic, steroid, or other anti-inflammatory medication into the epidural space surrounding the spinal cord. At Alliance Orthopedics, we will provide you with a comprehensive evaluation to see if epidural steroid injections are the best option for you. We believe in a multidisciplinary approach and will work with you to create a treatment plan best suited for your individual needs.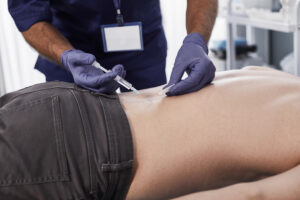 What Conditions Benefit from Epidural Injections?
Alliance Orthopedics recommends conservative treatments such as physical therapy and chiropractic care before considering epidural steroid injections.
However, if you are still experiencing pain despite these measures, epidural steroid injections may be right for you. Epidural steroid injections may provide pain relief from a variety of conditions, including:
Herniated discs

Spinal stenosis

Bone spurs

Degenerative disc disease

Back or leg pain after spinal surgery
How Epidural Steroid Injections Work
If it is determined that you would benefit from epidural steroid injections, your pain management specialist will go over the details of the procedure to ensure you understand what to expect.
The injection will be given while you are lying down on your stomach or side. Before the injection, a local anesthetic will be used to numb the area. Once you are comfortable, your pain management specialist will determine the location of the injection using X-ray guidance.
A thin needle will be inserted into the epidural space, and a contrast dye will be injected to confirm that the needle is in the correct position. Once confirmed, the steroid medication will be injected, providing you with pain relief.
What To Expect After the Procedure
Following the procedure, most patients experience pain relief within 48 hours of the injection. The pain management experts at Alliance Orthopedics may request you have someone drive you home after the injection.
The effects of the epidural steroid injection may last anywhere from a few days to a couple of months. After the injection, it's essential to continue with your conservative treatment plan, such as physical therapy, to prevent the pain from returning.