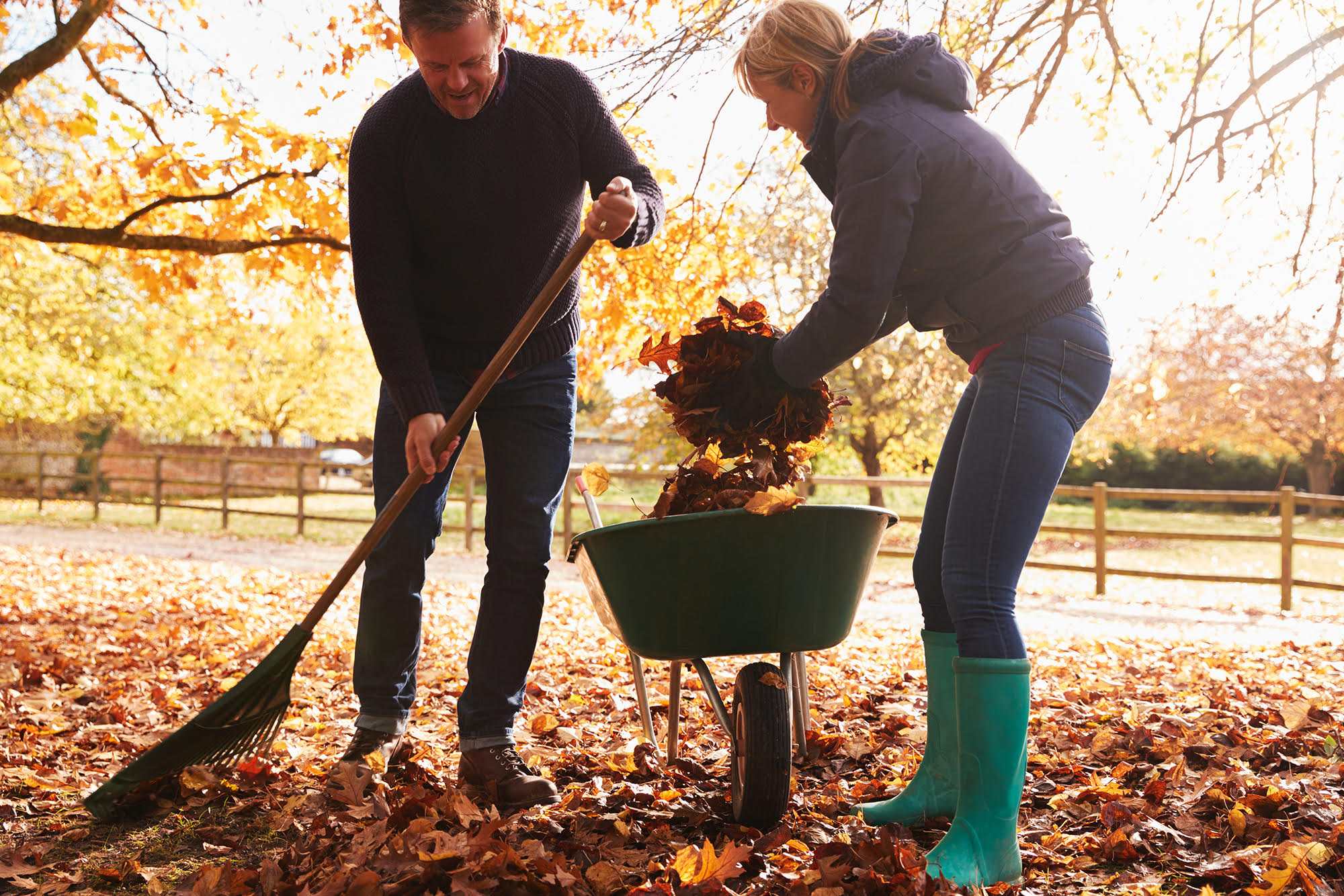 Best Practices for Raking Leaves
Autumn is a beautiful season to experience, but those leaves can be a hassle to clean up!
For every tree that has leaves full of shades of orange and red, there are three more that have said leaves fall off on the ground, leaving us to clean up after Mother Nature. While raking is simple in concept — cleaning leaves and piling them up does appear easy on paper — it can easily be done incorrectly and put unnecessary strain on your body while doing it. Properly handling yourself while raking is important in order to minimize the risk of injury, and luckily, there are easy things that you can change to rake as effectively and safely as possible.
First and foremost, preparing yourself before raking will prevent complications or accidents from happening. The size of the rake you are handling will affect your performance before you start. Do your best to make sure your rake is the right size for you; if your rake is too small or big for you, you will need to use more energy and might end up being sore at the end of your time raking.
Furthermore, wear any protective gear that you have on hand; gloves, long sleeves, comfortable shoes and more will go a long way to minimize the harm raking may do on your body. Finally, make sure you stretch before you start raking; that way, your muscles will loosen up and be more prepared for the physical stress that comes with the activity.
It's is important to maintain proper posture as you rake. Keep your back straight and the rake close to your body, avoid turning your back constantly, and always bend your knees when raking in leaves. Moreover, you should aim to rake as deeply as you can, maximizing the amount of leaves you take in per movement and minimizing the time you need to spend working. While this is happening, ensure that you are spreading the workload even between both sides of your body via switching which hand is positioned at the top of the rake handle. Most importantly, remember to stay hydrated; in addition to staving off dehydration, drinking water will help you maintain the energy you need to get the job done.
After the leaves are raked and you have put them into bags of some kind, you must tread carefully in handling these bags as well, especially since the leaves inside are heavy and inside a tight space. When lifting leaf bags, make sure that you are firmly grasping them and that you are bending with your knees with your back straight, so as to avoid strain on the latter. Lift them up slowly until you are standing relatively straight again, and then you are set.
It is important to take these precautions in order to minimize the risk of back pain. Why? According to Dr. Andrew Bang, it is better to avoid back pain than to treat it once it arrives. He states that 40% of adults experience some kind of back pain in their life, and that it is typically recurrent. Gradually these issues can build up and negatively affect your health for the rest of your life. Thus, it is imperative that you handle yourself carefully when doing household chores especially when it comes to raking leaves.
Though raking leaves is a task that can be strenuous, when done properly it can be significantly less of a hindrance on your lawn and on your body. Make sure that you take heed of how you behave while raking, because once you do it right once, it will be an experience that you will want to repeat for the rest of your life.
Here at Alliance Orthopedics, we provide quality care for your back and joint health. Our specialists range from chiropractics to occupational therapy and injury. Our providers are highly-skilled and experienced doctors and experts who work together under one team to bring patients comprehensive treatment plans. We pay attention to the details and are trained in innovative treatment methods to help you Get Better Faster. Contact us now in one of our four locations here in Matawan, Old Bridge, Freehold, East Brunswick, NJ.
---
Sources
Beaulieu, D. (2019, June 27). Is There a Right and Wrong Way to Rake Leaves? The Spruce. Retrieved October 28, 2021, from https://www.thespruce.com/right-and-wrong-way-to-rake-leaves-2130937.
Cleveland Clinic. (2021, October 25). How to Rake Leaves Without Hurting Your Back. Cleveland Clinic. Retrieved October 28, 2021, from https://health.clevelandclinic.org/the-right-way-to-rake-all-those-leaves-in-your-yard-without-hurting-your-back/.