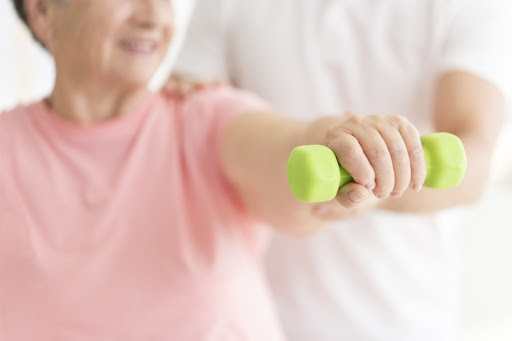 Using Physical Therapy to Regain Strength After a Stroke
By Dr. Mike Zolonitsky PT, DPT
Right now, more than
700,000 people
suffer strokes in the U.S. each year, leaving many of those sufferers asking, "How do I regain strength after a stroke"? Approximately two-thirds of those individuals will need rehabilitation. The goal of this rehabilitation is to help stroke survivors regain their strength, become independent, and ensure they can access the best possible quality of life from the moment of the stroke going forward. While rehabilitation will not "cure" the effects of a stroke, it can help survivors achieve the best possible outcomes.
In honor of October 29th's World Stroke Day, we're using this post to highlight the process of getting #UpAgainAfterStroke. When it comes to stroke recovery, physical therapy is one of the best options for regaining strength, coordination, and balance and restoring some sense of normalcy in life.
Here's what you need to know about physical therapy, the role of exercises during stroke recovery, and how they can help with your post-stroke rehabilitation.
How Physical Therapy Works to Help a Patient Regain Strength After a Stroke
Stroke is one of the leading causes of long-term adult disability in the United States. Despite the multiple problems caused by strokes, though, there are ways for patients to navigate the difficult situations present in stroke recovery and locate workable solutions that help them get back to life.
If someone is asking themselves the question, "How do I regain strength after a stroke?"; then there are several steps they can take with a physical therapist to begin their recovery. These steps will vary depending on the type of stroke they experienced and what a professional rehabilitation specialist determines. Some of the most common physical activities and therapy routines to perform during stroke recovery may include:
—Practicing mobility exercises: Utilizing common mobility aids like walkers, ankle braces, canes, and wheelchairs which can stabilize movements and support your weight while retraining your body.
—Range of motion training: specific movements, when practiced under the supervision of a physical therapist, can reduce tension in the muscles improving motion during mobility exercises.
—Motor-skills redevelopment: certain exercises that can build muscle strength and optimize coordination. Examples can include buttoning a shirt, brushing your teeth, and stacking objects.
—Restrainment therapies: Functional limbs not affected by the stroke are restrained while the impacted limbs are exercised to rebuild strength in the stroke-affected muscles.
The Importance of Early Recovery When Working to Regain Strength After a Stroke
When it comes to rehabilitating from a stroke, time is everything. Outcomes are much better in patients who seek out stroke recovery therapy as soon as possible after a stroke. According to recent numbers, 10% of stroke survivors recover almost completely, 25% recover with only minor impairments, and 40% will experience moderate to serious impairments that require professional care.
In patients who are able, rehabilitation should begin in the hospital, as few as two days after the stroke takes place. When early recovery is a priority, it's easier for physical therapy and other methods to improve function and help the stroke survivor regain strength and become as independent as possible.
One of our own patients, Kerwin, discovered this when he suffered a stroke recently. Kerwin woke up with a strange feeling in his body and took it upon himself to go to the hospital. Once there, doctors told him he had suffered a hemorrhagic stroke, which is one of the leading causes of stroke-related disability and death in the U.S.
The stroke caused Kerwin to lose feeling on the right side of his body and required two surgeries. Fortunately, Kerwin got into inpatient physical therapy immediately and began to notice better balance, coordination, and strength.
Keep in mind the duration of your stroke rehabilitation will depend on the severity of your stroke and related complications. Some stroke survivors recover quickly, but most people need long-term stroke rehabilitation. Your treatment plan will change during your recovery as you relearn skills, so it's important to take one day at a time and see how things progress.
Even if a patient is under the care of a physical therapist and undergoing stroke rehabilitation, they may still be wondering, "How do I regain my strength after a stroke"? Since rebuilding muscle strength and endurance is dependent on the circumstances of the stroke survivor, it is not uncommon for a patient to doubt their progress during stroke recovery and rehabilitation. It is vital that each individual understands that their recovery is important, and with the help of a trained physical therapist, they can regain strength after experiencing a stroke.
Complex Movements and Their Role in Building Coordination and Strength After a Stroke
One of the unique elements of physical therapy after a stroke is that rehabilitation specialists will often create plans that include multi-tasking activities. Examples of these activities include balancing on a Bosu Ball and catching frisbees, kickboxing, and navigating obstacle courses with closed eyes.
These exercises promote strength, coordination, range of motion, and balance and created outstanding results with Kerwin. Today, Kerwin does not need a cane to walk any longer, has better feeling in his right foot, and can open his hand 90% of the way. It's a positive outcome that traditional rehabilitation alone would not have produced.
Inpatient vs. Outpatient Therapy
Some stroke rehabilitation programs are inpatient programs, while others are outpatient programs. Inpatient programs admit patients in a live-in setting for comprehensive and intensive stroke treatment. In contrast, outpatient programs provide treatment that does not require the patient to live in a facility. Outpatient programs are popular among stroke survivors who live at home but still want to access a full range of services. Inpatient programs, on the other hand, are ideal for immediate post-stroke recovery and intensive care.
The Benefits of Physical Therapy for Stroke Survivors
A stroke is a traumatic event for the human brain, and it can shock the body into a near-dormant state. As soon as oxygen is restored to the brain after a stroke, though, the body and brain begin the long process of recovering from the loss of muscle function and healing brain damage. How to regain strength after a stroke is dependent on the quality of care a patient receives while undergoing a rehabilitation program.
Post-stroke physical therapy is a massive part of this process. When physical therapy begins as early as 24 hours after a stroke, it helps to stimulate affected muscles and nerves and promote circulation that can cause stiffness.
Physical therapy also helps patients relearn basic muscle movements and heal the neurological trauma that goes along with a stroke. Good post-stroke physical therapy can also help patients avoid common post-stroke complications, such as falls and weakness, which may derail overall progress.
Physical therapy also helps patients relearn basic muscle movements and heal the neurological trauma that goes along with a stroke. Good post-stroke physical therapy can also help patients avoid common post-stroke complications, such as falls and weakness, which may derail overall progress.
Additional Services to Help With Stroke Recovery
In addition to regular physical therapy, many stroke patients benefit from additional treatments, including occupational therapy and acupuncture. Physical therapy helped Kerwin improve his balance and coordination, but he credits his sessions with one of our acupuncturists for the drastic reduction in his pain from Central Pain Syndrome.
There are also many benefits to working with an occupational therapist for stroke recovery as they understand the importance of your emotional well-being, social connections, and a healthy lifestyle. They focus on working with stroke survivors to take back control of their lives, make human connections, and lead healthy lifestyles. This may include developing coping strategies to deal with loss, individualized ways to promote psychosocial health, education to minimize the potential for a second stroke, promotion of increased exercise and healthy eating, and more, according to the American Occupational Therapy Association.
At Alliance Orthopedics, we believe in a multidisciplinary approach and always advocate for our stroke recovery patients to take advantage of multiple treatments when appropriate.
Getting the Care You Need and Regain Strength After a Stroke
A stroke is a traumatic event, and recovering from one can feel like an impossible, uphill challenge. Stroke sufferers are faced with a daunting question, "How do I regain my strength after a stroke"? Fortunately, patients like Kerwin show that it is possible and that it's within reach for you and your family.
Here at Alliance Orthopedics, we believe in post-stroke rehabilitation and do everything in our power to promote healing and recovery in a patient-centric environment. Stroke rehabilitation does take time and patience, but we want you to have the best outcome possible, so you can get back to doing what you love in your daily life.
Specializing in physical therapy in Matawan, NJ, and stroke recovery, we're here to create tailored recovery plans, utilize complementary therapies like acupuncture in East Brunswick, NJ, which can reduce pain and promote faster and more comprehensive healing, and help you find a customized approach to rehabilitation that works for you. If you or a loved one has been asking, "How do I regain my strength after a stroke?" and are ready to learn more about our physical therapy and other stroke services, call or email our team to make an appointment with one of our physical therapists today and Get Better Faster!
Dr. Mike Zolonitsky received his doctorate in Physical Therapy from Chatham University in Pittsburgh, PA, in December of 2014. Dr. Mike is currently leading the Alliance Orthopedics neurological department to treat various conditions including but not limited to concussions, MS, stroke, and Parkinson's Disorder.