Foot & Ankle Fracture Surgery at Alliance Orthopedics
Whether you're an elite athlete or a weekend warrior, you trust your feet and ankles to keep you moving. So when a fracture or break occurs, it can be extremely debilitating. That's where the foot and ankle surgeons come in. Our team specializes in the diagnosis and treatment of all types of fractures and breaks, from simple to complex.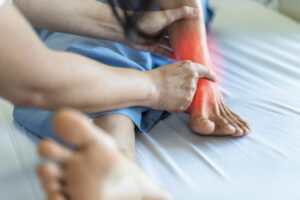 When Is Surgery Necessary?
We take a conservative approach to surgery, only recommending it when non-surgical options have failed or aren't possible. In some cases, surgery may be the best course of action to ensure a full recovery.
What to Expect During Fracture Surgery
If you do need fracture surgery, our team will work with you to develop a personalized treatment plan. We will also take the time to answer any questions or concerns you may have.
During your procedure, we will use the latest surgical techniques and technology to ensure the best possible outcome. After your surgery, our team will work with you on a rehabilitation plan to help you get back to your normal activities as soon as possible.
Comprehensive Recovery for Fracture Surgery
When surgery is necessary, our surgeons work closely with our other teams of specialists, including physical and occupational therapists, to provide you with a comprehensive care experience.
Our goal is to help you get back to your life as quickly and safely as possible.
If you have suffered a foot or ankle fracture, please call us to schedule an appointment. We will be happy to answer any questions you may have and help you get better faster.