Deformity Correction at Alliance Orthopedics
You don't have to live with foot deformities forever. At Alliance Orthopedics, we offer corrective surgery and other modalities to help patients achieve their desired appearance and improve their quality of life.
Our team has experience in correcting various types of foot deformities, including:
Club foot

Claw toe

Bunions

Cavus foot

Flatfoot

High arches

Overlapping toes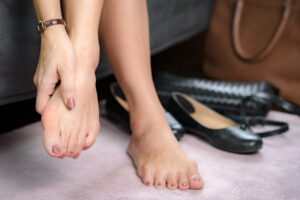 How We Correct Foot Deformities
The first step is to meet with one of our providers to discuss your goals and what we can do to help you achieve them. We will create a custom treatment plan based on your individual needs that will provide you with a path to the quickest recovery so you can get back to your daily life. In some cases, non-surgical options may be available. However, for more severe deformities, surgery may be the necessary option.
At Alliance Orthopedics our providers take the time to ensure that you are fully informed about your options and answer any questions you may have. We want you to feel confident and comfortable with your decision before moving forward with treatment. 
The Benefits of Deformity Correction
There are many benefits to correcting foot deformities, including:
Improved appearance

Improved function

Reduced pain

Increased confidence